Windy City Wins Bronze at National Club Championships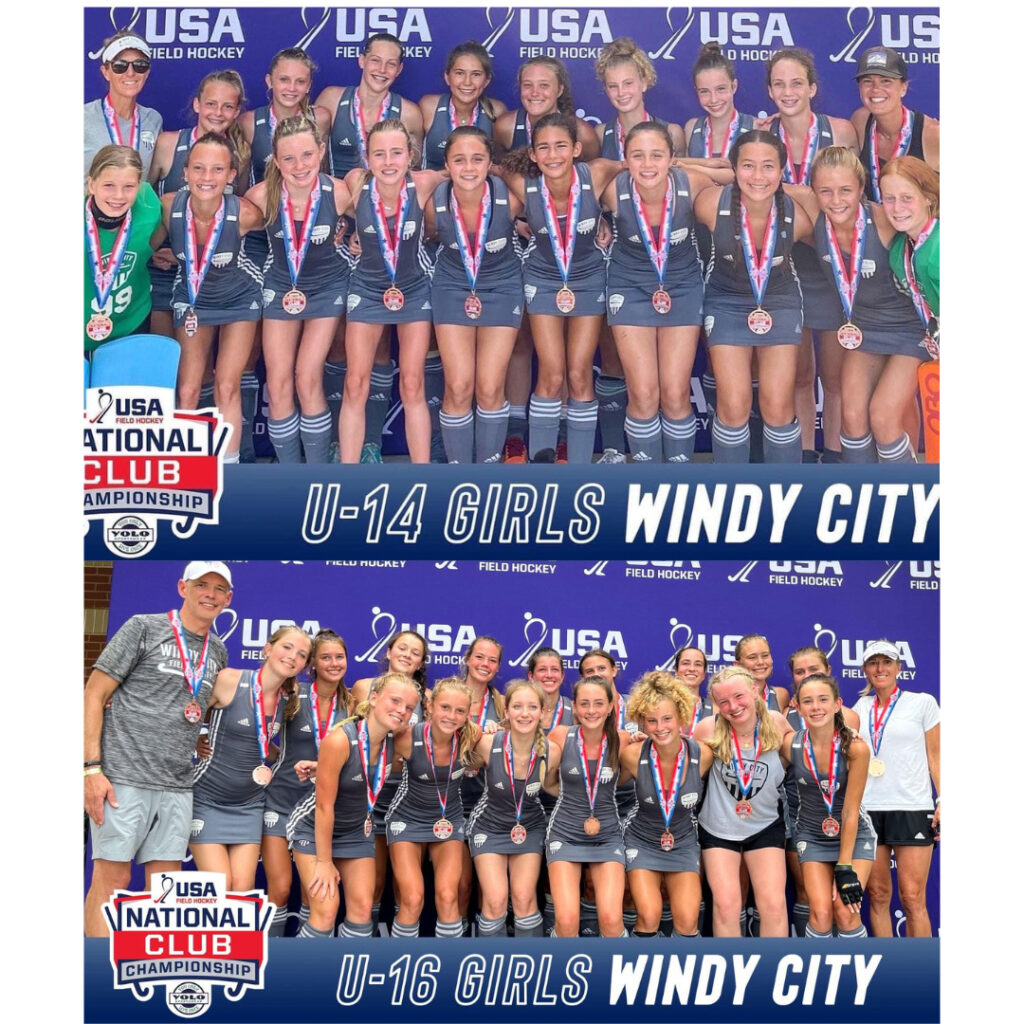 U14 & U16 Windy City Captures Bronze
Congratulations to U14 Windy City Spark on their 3rd place finish at National Club Championships. The team battled heat and injuries over the course of the 3-day tournament in Virginia Beach to bring home the bronze.
Windy City lost 5-4 (4-4 regulation) in the semi-final game in a dramatic shootout vs Central Penn Field Hockey Club (PA). WCFH rebounded and took home Bronze with a 5-1 win over Freedom Hockey (MD) in the final match of the tournament.
Team Members: Lina Alberts, Sarah Anetsberger, Ella Beach, Eloise Breen, Lilly Cimaroli, Kayla Chudgar, Claire Halasz, Avery Halack, Molly Hostetler, Ashley Goettsche, Kinglsey Goldman, Caroline Kotz, Abigail Krasaeath, Alivia Pufpaf, Elle Pufpaf, Megan Ross, Katherine St. Amand, Sophie Wenk and Coached by: Katie Beach & Molly Sarhage
Congratulations to U16 Flame on their Bronze Medal at the 2022 National Club Championships!
This team showed relentless determination, guts and grit to tie the game with under a minute to go and send the game to a shootout victory! Windy City beat Spirit of USA 2-1 to finish 3rd in the Nation!
Team Members: Hannah Balmelli, Reese Anetsberger, Ella Beach, Allie Hieb, Maisie Henshaw, Izzy Morgan, Gemma Franco, Julia Soriano, Riley Zenkewicz, Beatrice Ottsen, Carly Pufpaf, Reagan Brown, Lilly Cimaroli, Maxine Hekster, Eleanor Larsen and Caitlin O'Shea and Coached by Katie Beach and Mark Morgan