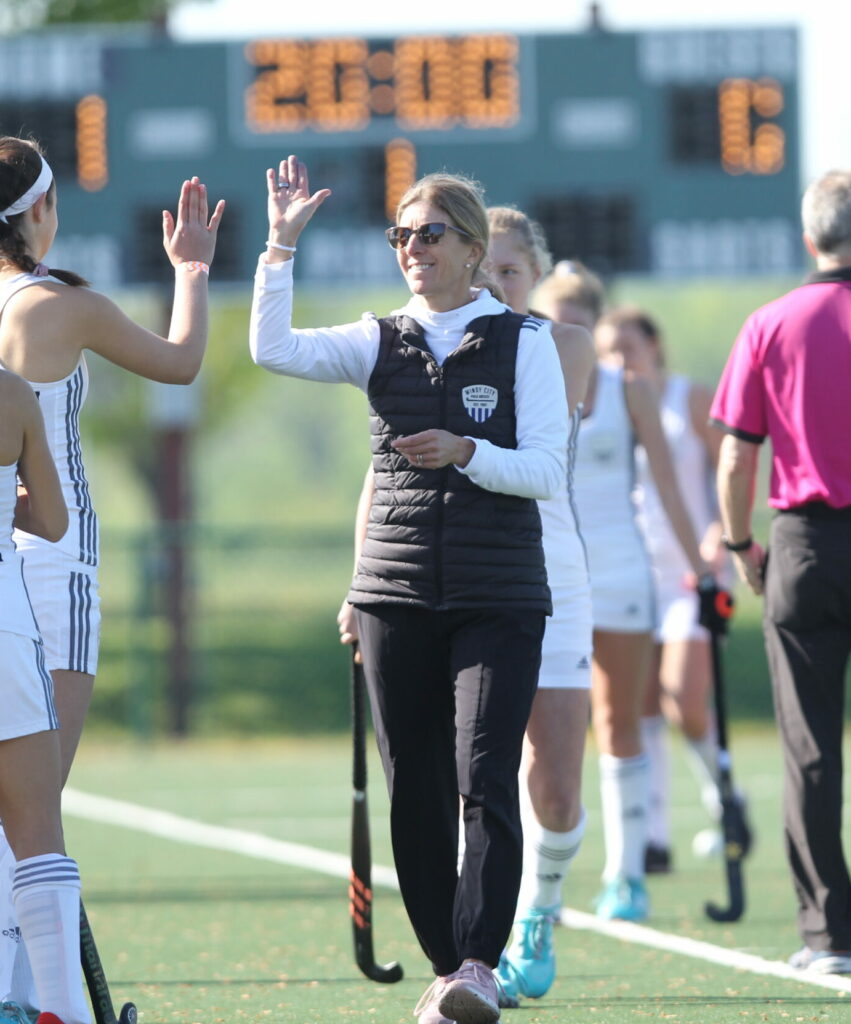 Katie Beach is the Owner and Director of Windy City Field Hockey since 2011.
Beach was a member of the USA National Field Hockey Team from 1994-2004 and captained the squad in 2003 and 2004. She was named the United States Field Hockey Association Player of the Year in 2000 and again in 2003. Over her 10 years on the USA Team, she competed in major competitions including the 1996 Atlanta Olympic Games and Pan American games in 1999 and 2003 and the World Cup in 1998 and 2002.  During her playing career, Katie earned over 180 international caps and gained leadership experience during her ten year's as a member of the USA National Team.
Katie is a 1997 graduate of the University of Maryland where she played four seasons and was a two-time captain. She was a first-team All-American in 1994 and 1996 and a finalist for the Honda Broderick Field Hockey Player of the Year as a senior. Beach was a Dean's List student, an Academic All-American and member of the Omicron Delta Kappa Leadership Society. She graduated from Maryland with a Bachelor of Science degree in Marketing from the Robert H. Smith School of Business.
After graduation, Beach took a position as an assistant coach at the University of Virginia, while training with the national team. After six months at UVA, Beach returned to Maryland as an assistant to Missy Meharg where she was involved in leading the team to a 1999 ACC and NCAA national championship and the following year helped the squad to a repeat of the conference title. In 2004 she took the head coach position at Columbia University and in 4 years took them from a 1-16 record to an 11-6 success in the Ivy's.
Beach has also coached various National Team Developmental Programs and was selected to coach a team at the USA/Canada Challenge in the summer of 2007. She continues to be involved with the USFHA by serving on the Ethics Committee, the Futures Task Force and has received her USFHA Level II Coaching Accreditation.
Beach's accomplishments also include being inducted into United States Field Hockey Association's Hall of Fame in June 2014, Pennsylvania Hall of Fame, Berks County Chapter, in April 2012, University of Maryland Hall of Fame and Wilson High School Hall of Fame. 
Katie resides in Northbrook, IL and is married to Keith Beach. Katie & Keith have three daughters- Madison, Ella and Bridget.
Coach Education- USA Field Hockey Level II Coach Certification
Awards- 2018 Club of the Year Award – Windy City Field Hockey
Member of Team USA 1994-2004
International Caps (matches played by neutral officials)- 180
USA Junior Team- 1994-1996
1994-1996- U21 National Team training and tours (Spain)
USA Senior Team-1994-2004
1994- World Cup Alternate for Senior Team
1995- Champions Trophy, Mar del Plata, Argentina (3rd)
1996- Olympic Games, Atlanta, GA (5th)
1997- Champions Trophy, Berlin, Germany (6th)
1998- World Cup, Utrecht, Netherlands (8th)
1999- Pan American Games, Winnipeg, Canada (2nd)
2000- Olympic Qualifying Tournament, Milton Keynes, England (6th)
2001- Pan America Cup, Kingston, Jamaica (2nd)
2002- Champions Challenge, Johannesburg, South Africa (5th)
2002- World Cup, Perth, Australia (9th)
2003- Pan American Games, Santo Domingo, Dominican Republic (2nd)
2004- Olympic Qualifying Tournament, Auckland, New Zealand (6th)
2004- Pan America Cup, Bridgetown, Bahamas (2nd)
2004- Official Retirement